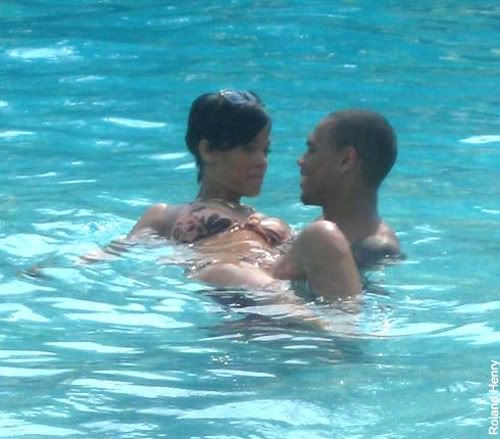 Okay, I know I'm a little late with this, and I hesitated if I'll post this BUT since many people still don't believe it (including me), here:P! The two were "caught in act" by PageSix.

The Grammy winner, who was thrown a big birthday bash by Chris for her 20th last week, was all over her younger man. "They were smooching in the pool and were really lovely dovey," the PageSix.com spy told us exclusively. "They were playfully making out and he was kissing her on the neck."
The attractive pair, who got matching star tattoos on their necks in January, got in the pool after a leisurely lunch yesterday at the Hilton Kingston Hotel in Jamaica. They were hanging out with friends and at about 3 p.m., Chris, 18, jumped into the water and waited while Rihanna went to her room and changed into a bikini.
She came back and was very scared of getting her hair wet, said the spy. "They were floating together with him carrying her and she kept saying, 'Don't get my hair wet'. She was very soft and feminine but he was a big kid and splashing around."